BLACK EDITION TH400… supports up to 2000HP
Our BLACK EDITION Series is our ultra-extreme offering in our street/strip performance transmissions. It's rated up to 2000 RWHP...
Price : $ 7,800.00
Add to cart
Description
This Transmission has a Core Charge
 Shipped only to Commercial/Business Locations
This is our strongest non-electronic transmission offering to date. Each of these units features all the latest upgrades and high quality materials for assembly. Below is the breakdown of the builds. Note the differences between the HD and Performance versions. The Heavy Duty line is available in both 2 and 4WD. The billet descriptions are from the manufacturer.
The Performance and Heavy duty 400:
The unit is disassembled, each part carefully inspected and clearances are measured to meet our specifications not just the maximum clearance allowed by GM.
The case is carefully inspected, cleaned and re-inspected. Then it is coated with a special heat and oil resistant paint making for a very tough finish and a clean look.
Bushings are replaced and sized as needed to performance specifications.
Super Comp Direct clutch drum and 36 element oversized sprag.
This custom drum assembly is fitted with oversize tool steel inner and outer sprag races, an oversize 36 element sprag assemblies, and a custom sprag retaining plate and spiral lock ring. Modified inner race distributes lube oil to the sprag assembly more efficiently. This drum uses factory OEM clutches and steels. This drum has been tested behind engines producing over 2000 horsepower/1800 foot pounds of torque.
The Forward and Direct clutch frictions are replaced with heavy duty performance frictions. The drums are then modified to accept additional frictions and the apply area itself is altered to allow use of the entire piston area for apply in the forward drum. "Dished" cushion plates in these units are replaced with the TH400 style plates for additional reliability. These modifications will also result in a much firmer apply into gear from neutral or park to reverse or drive. But durability is significantly increased.
We also install a Billet forward clutch hub.
The forward clutch hub of the GM TH400 has been known to break in competition applications or vehicles with over 1000 horsepower/1000 foot pounds of torque. Heavy vehicles, N.O.S, Supercharging and Turbocharging greatly increase failure rates. Reliable up to 2000 HP.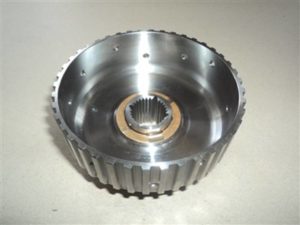 For the Intermediate, the frictions used are the again performance carbon composite. In addition we use a plate that is CNC machined and shaped in the U.S.A. from E4340 steel billet blanks. The plate will not bend, bow, or deflect under the elevated line pressures encountered in racing applications. It vastly increases intermediate clutch capacity, performance and durability.
Competition Plus Billet Input Shaft and Drum Assembly
This assembly is intended for use with engines producing up to 1000 foot pounds of torque in vehicles weighing up to 4000 pounds. Will handle more torque in lighter vehicles. Input shaft is manufactured from proprietary steel billet blanks. The OEM forward clutch housing is bored out and fitted with an oversize 40 spline input shaft, vastly increasing surface area at the interface, eliminating housing failures. Fully machined, shaped, and ground on precision CNC equipment.
We upgrade the main shaft with this piece. This is the aftermarkets toughest TH400 main shaft.  This redesigned torsional main shaft is fully CNC machined, shaped, and ground. It is born of Aermet 100 steel billet blanks, the strongest practical material currently available for producing transmission shafts. It features extra material at critical diameters to eliminate failures.  This shaft is rated @ 2000hp/2000 lbs. ft. torque.
A new Billet press fit sun gear intermediate shaft. This one of a kind part introduces a press fit between the direct drum and the sun gear shaft. By doing this the direct drum and sprag assembly is forced to run on the transmission center line. This keeps the sprag from angular overrunning in high gear which can destroy the sprag. Other benefits are less harmonics in 1st and 3rd gears and reduced wear between the drum and center support.
The upgraded center support is bored out and fitted with an oversize billet aluminum intermediate clutch piston, which increases the clutch pack application/clamping force by 500 pounds.  The end results are firmer 1-2 up-shifts and a huge increase in intermediate clutch pack capacity.
The intermediate overrun band is replaced with a heavy duty unit. This is mostly valuable in heavy duty truck applications, since this band is used to hold back when the transmission is manually put into 2nd gear while descending steep grades, etc. It will hold up significantly better to engine braking.
The low sprag is replaced with a heavy duty type and the LOW/REVERSE band is replaced with either a Performance band, or a heavy duty band for our heavy hauler applications.
The pump gear assembly is carefully inspected and reconditioned for maximum durability and pressure. Special modifications are made to increase cooling and planetary lubrication. In addition a brand new set of OEM pump gears coated with military grade PTFE Teflon. The coating reduces/eliminates any wear resulting from contact between the gear set and the pump body and pump cover, which has become a major concern with the 4l80E transmission in high output applications.
Our own PerformaBuilt shift kit is installed in the valve body. This kit is custom set to the type of unit purchased. The heavy duty setup is for maximum holding with minimal "shift shock." Performance units are set for a more aggressive race feel, while maintaining a progressive shift that increases in firmness as you add more throttle.
Additional valve bodies such as RMVB, trans brake, etc., are available. However, since these items are outsourced and prices vary, you will need to call for info on these items.
If you have, or plan to have, BIG power………This transmission will get it to the wheels. NO DOUBT!!!
Each unit comes with a PerformaBuilt warranty according to the terms listed on our warranty page.
As with our other units, no core return is required.
Additional information
| | |
| --- | --- |
| WARRANTY | Please note our Warranty page. This transmission comes with a 1 Year Warranty. |
| 2 YEAR WARRANTY UPGRADE | This option provides you a 2 Year Warranty on your PerformaBuilt transmission for an additional $570. |
| BUY A TORQUE CONVERTER | If you purchase a torque converter from us you will automatically get the 2 Year Warranty Upgrade. |
| HORSEPOWER RATING | This transmission will support up to 2000 RWHP. |
| CORE CHARGE | Due to the scarcity of cores available for this transmission, a $500 core charge will be added at checkout. |
| SHIPPING | Due to the weight of this transmission it has to be delivered to a commercial or business location with a forklift or loading dock. |
| NOTE | All units are available in either 2wd or 4X4. If you have a special application requiring a special adapter or output shaft, please contact us and we will be happy to provide it and quote a price for your special application. |
| QUESTIONS | If you have any questions feel free to call 1-888-744-6542, or email us at sales@performabuilt.com. We also have Live Chat during business hours; located in lower right corner of this webpage. |
Only logged in customers who have purchased this product may leave a review.