BLACK EDITION 4L70E… supports up to +1000HP
Our BLACK EDITION Series is our ultra-extreme offering in our street/strip performance transmissions. It's rated at +1000 RWHP...
Price : $ 6,600.00
Add to cart
Description
Our Black Edition series is our newest Extreme offering in the 4L70 transmissions series. It's available in the 700R4, 4L60E for LT-1, 4L60E for LS1/LSX, 4L65E and 4L70E.
The Black Edition features all the components of our Level 3 transmission with the following upgrades for added strength and durability. Nothing but the best!!!
Upgraded five (5) pinion planetaries
4L78 Input Drum: This is a major upgrade of the input drum assembly on these units, improving rigidity and cooling over the stock input drum. With a 6061 threaded billet endcap it further helps shed heat from the 3-4 clutch better than steel. This billet endcap also strengthens the drum itself.
Molded seal steel pistons
Alto High Energy carbon composite forward friction plates.
A set of Alto High Energy clutches with our new proprietary drilled steel plates for high-impact-durability and added cooling on the 2-3 shift.
Borg Warner 29 Element Dual Cage Sprag assembly, the strongest available.
THE BEAST SHELL To eliminate stripping of the splines and breakage common in the factory sun shell; which causes reverse, second and fourth gears not to work; we install the Beast Shell. The shell is also balanced to lower drive train vibration.
New Sonnax Billet Steel Input and output shafts!
Available in 2wd and 4×4 or AWD.
Machined OEM reverse Input drum to accommodate the ultra-wide carbon band.
Ultra wide carbon composite 2-4 performance band with reinforced pin area to prevent tear through. This band will take the abuse and the heat.
Our Performance Billet Servo is used for maximum second gear hold. (It also limits 3rd gear 3-4 clutch accumulation to aid in the 3-4 clutch apply.)
Performance Billet Overdrive Servo Used with the wide band to withstand wide-open-throttle, while in overdrive, if your PCM is set up to allow it. Anodized red with PerformaBuilt logo laser etched.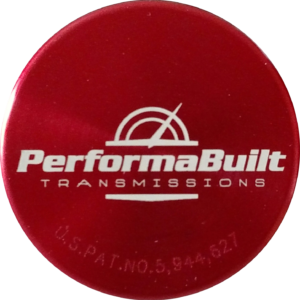 A Thirteen (13) vane pump with hardened rings and a full-time lube modification which assures maximum planetary life and cooling.
Max line set at approximately 220 PSI.
PerformaBuilt custom shift kit: A compilation of what we consider to be the best of several known kits; and some unique modifications of our own.
Deep Chrome Pan or Optional cast aluminum pan (Additional charge for cast aluminum pan)
There you have it, The Strongest 4L6X and 700R4 available anywhere!!! And, we guarantee it will handle over 1000 RWHP.
This unit also features many other proprietary modifications for performance and durability which help it achieve its unbelievable horsepower capabilities. It will take whatever you dish out and we guarantee it. You won't find a better unit anywhere.
Additional information
| | |
| --- | --- |
| WARRANTY | Please note our Warranty page. This transmission comes with a 1 Year Warranty. |
| 2 YEAR WARRANTY UPGRADE | This option provides you a 2 Year Warranty on your PerformaBuilt transmission for an additional $500. |
| BUY A TORQUE CONVERTER | If you purchase a torque converter from us you will automatically get the 2 Year Warranty Upgrade. |
| HORSEPOWER RATING | This transmission will support +1000 RWHP. |
| CORE CHARGE | Due to the scarcity of cores available for this transmission, a $500 core charge will be added at checkout. |
| NOTE | All units are available in either 2wd or 4X4. If you have a special application requiring a special adapter or output shaft, please contact us and we will be happy to provide it and quote a price for your special application. |
| NOTE FOR LSX | The LSX transmission has a removable bell housing which is not included with our transmission. You will need to use your original bell housing and extension housing, but the transmission will have the appropriate output shaft for your application.These items are available at additional cost. |
| YEARS | 4L70E and 2006 TBSS and 2007 up 4L60E/65E/70E CORE CHARGE. Once you receive your PerformaBuilt transmission, send us your buildable core to receive your core charge refund. |
| QUESTIONS | If you have any questions feel free to call 1-888-744-6542, or email us at sales@performabuilt.com. We also have Live Chat during business hours; located in lower right corner of this webpage. |
Only logged in customers who have purchased this product may leave a review.