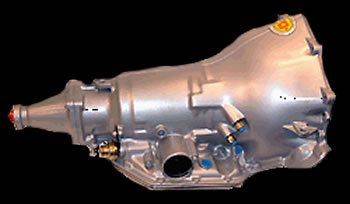 PERFORMANCE TH350 TRANSMISSION (Manual).. supports up to 500HP
Our Performance Hydramatic 350 Transmission (Manual) is built to take a beating. It's rated at 500 RWHP...
Price : $ 2,095.00
Add to cart
Description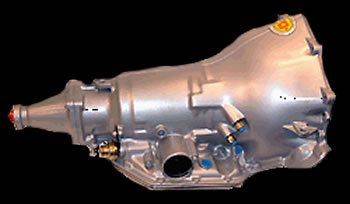 PERFORMANCE TH350 TRANSMISSION (Manual)

The PerformaBuilt Performance TH350 Transmission with the "Full Manual Valve Body" style; which allows you to start in any gear and is not restricted by governor or modulator pressure regardless of speed or rpm; is intended for the track only.
Its features include the following components and modifications (nothing but the best):
1. The case of each unit is carefully inspected, checked for cracks and stress, and cleaned in our heavy duty parts cleaner. Then the case is heated to approx 250 degrees to remove all water and to allow for additional inspection and testing. As the case cools it is painted with a high gloss paint/sealant providing an excellent finish and sealing it from the elements.
2. The low reverse piston is then inspected and replaced as needed. These are a high-stress point in the TH350 when used heavily for manual down shifts. New seals are installed, the piston is carefully installed in the case and static air tested for proper "apply".
3. The rear planetary set is then inspected and installed in the case, followed by the high energy low reverse frictions and new steel pressure plates, all set for ideal clearance for racing and high speed down shifts. Next, the heavy duty low roller clutch and support are installed along with the case reinforcement insert.
4. The sun shell and gear are then inspected and installed with bushings to ensure a good center clearance, which is important for high rpm driving. The front planetary is inspected and installed along with the shaft support clip. The rear end-play is checked and adjusted as needed to precise tolerances.
5. The forward clutch drum is carefully cleaned and inspected before the piston and seals are replaced into the drum. Then the new Performance high energy frictions and heavy duty new steels are installed. The wave cushion plate is omitted, when possible, to add an additional friction.
6. The direct clutch drum is then inspected before the piston and seals are placed into the drum. Heavy duty high energy frictions and heavy duty steels are installed. This drum is also modified to increase the apply area of the piston by 100 percent over the stock setup.
7. A hardened intermediate clutch race and heavy duty roller sprag are then installed on the direct clutch drum and it is placed in the case. The intermediate overrun band is installed, followed by 3 heavy duty high energy intermediate frictions.
8. The Pump is now inspected and the bushing and/or gears are replaced as needed. Seals for the intermediate piston are replaced and the return cage modified. New hardened metal sealing rings are installed on the pump shaft. The pump is then carefully aligned and installed.
9. The valve body is carefully cleaned and disassembled, all the valves are checked for wear and proper movement, and the PerformaBuilt Performance Shift Kit is installed according to the order preference. Additionally, a new adjustable modulator is installed.
10. The pan and tail housing are now installed.
11. No speedometer gears are installed in the unit, but they are available at additional cost. The units can be set up for VSS (vehicle speed sensor). Prices are shown.
These Transmissions are for the all out race enthusiast. Shifts are very aggressive – more so in the full manual version. This unit is built to take a beating and will live up to the PerformaBuilt name.
Additional information
| | |
| --- | --- |
| WARRANTY | Please note our Warranty page. This transmission comes with a 1 Year Warranty. |
| 2 YEAR WARRANTY UPGRADE | This option provides you a 2 Year Warranty on your PerformaBuilt transmission for an additional $150. |
| BUY A TORQUE CONVERTER | If you purchase a torque converter from us you will automatically get the 2 Year Warranty Upgrade. |
| HORSEPOWER RATING | This transmission will support up to 500 RWHP. |
| NOTE | All units are available in either 2wd or 4X4. If you have a special application requiring a special adapter or output shaft, please contact us and we will be happy to provide it and quote a price for your special application. |
| CORE REQUIRED | We can only build customer provided transmissions due to the scarcity of buildable cores. |
| VEHICLE SPEED SENSOR | If you are using VSS, reluctor and tail housing are available for $75.00. VSS MOD ONLY AVAILABLE WITH THE SHORT TAIL TH350 6 INCH TYPE. |
| QUESTIONS | If you have any questions feel free to call 1-888-744-6542, or email us at sales@performabuilt.com. We also have Live Chat during business hours; located in lower right corner of this webpage. |
Only logged in customers who have purchased this product may leave a review.